Best Lyrics Post Generator - SEO Optimized Tool for Free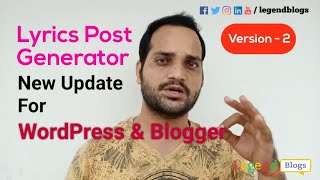 Best tool for Bloggers on the who is using Lyrics Post Generator. If you have any song lyrics website then this tool become very use full for you. Simply create your lyrics and put HTML code in your blog.
Before creating your first Lyrics Post, watch this complete video. Lyrics is not a personal content after launch the song lyrics, so you can use it for free on your website.
But you need to choose different way to present your content on your website. The same song lyrics can be placed on more than one website.
Features of this Tool
You can generate post for your lyrics website. Doesn't matter your website platform, it can be a WordPress or Blogger.
Generate your post using this button.
There are list of features in this tool-
Simply copy and paste steps
Available layouts for WordPress and Blogger
SEO Optimized
Internal page linking
Footer linking
Multicolor theme options
Checkout this tool using above button. Cheers..!