Convert text to image in php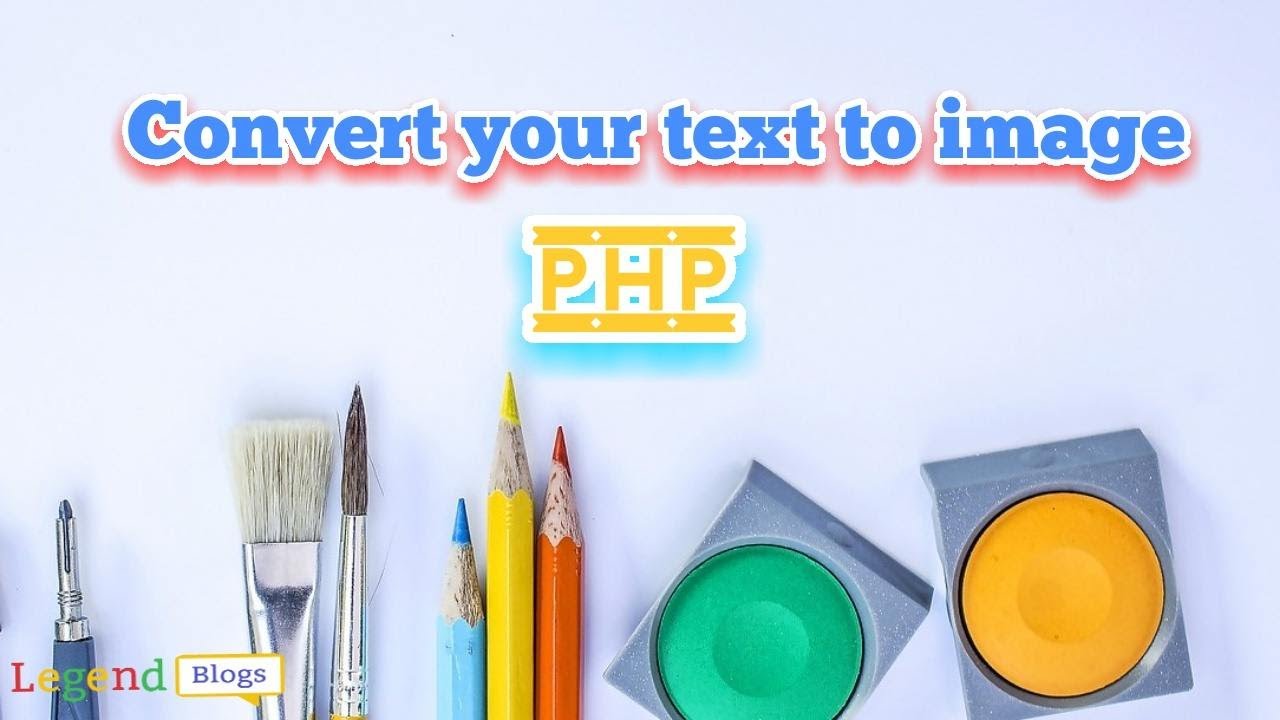 Some of the cases we need to create an image dynamically when the web page is loading, Then a question raised in the mind - Can I convert text to image in PHP? the answer is Yes! why not. For doing this activity you just need to do a few steps. These steps are given below:
Check your GD library extension is on in your current PHP version.
If it does not enable simply just un-comment it.
Include phpTextToImage class in your project.
Create an object of this class.
Call create image function with your text.
Call save function with your file name and location.
This library has numbers of features which fulfill your all requirement, these features are given:
Create dynamically text image.
Set your text font.
Choose an image background.
Set your text color also.
Adjust your image height and width.
Let's start with the example. First of all, include the phpTextToImage class in your project files.
<?php
/**
 * phpTextToImage class
 * This class converts text to image in PHP
 * 
 * @author    Legend Blogs
 * @link    https://www.legendblogs.com
 */
class phpTextToImage {
    private $image;
    /**
     * Create image from text
     * @param string text to convert into image
     * @param string textColor
     * @param string backgroundColor
     * @param int font size of text
     * @param int width of the image
     * @param int height of the image
     */
    function createImage($text, $textColor = '', $backgroundColor = '', $fontSize = 22, $imgWidth = 600, $imgHeight = 300) {
        //text font path
        $font = 'font/Pacifico-Regular.ttf';
        //create the image
        $this->image = imagecreatetruecolor($imgWidth, $imgHeight);
        $colorCode = array('#ffffff','#db3236', '#f4c20d', '#3cba54', '#4c53cc', '#56aad8', '#61c4a8');
        
        if ($backgroundColor == '') {
            /* select random color */
            $backgroundColor = $this->hexToRGB($colorCode[rand(0, count($colorCode) - 1)]);
        } else {
            /* select background color as provided */
            $backgroundColor = $this->hexToRGB($backgroundColor);
        }
        
        if ($textColor == '') {
            /* select random color */
            $textColor = $this->hexToRGB($colorCode[rand(0, count($colorCode) - 1)]);
        } else {
            /* select background color as provided */
            $textColor = $this->hexToRGB($colorCode[rand(0, count($textColor) - 1)]);
        }
        $textColor = imagecolorallocate($this->image, $textColor['r'], $textColor['g'], $textColor['b']);
        $backgroundColor = imagecolorallocate($this->image, $backgroundColor['r'], $backgroundColor['g'], $backgroundColor['b']);
        imagefilledrectangle($this->image, 0, 0, $imgWidth - 1, $imgHeight - 1, $backgroundColor);
        //break lines
        $splitText = explode("\\n", $text);
        $lines = count($splitText);
        $angle = 0;
        foreach ($splitText as $txt) {
            $textBox = imagettfbbox($fontSize, $angle, $font, $txt);
            $textWidth = abs(max($textBox[2], $textBox[4]));
            $textHeight = abs(max($textBox[5], $textBox[7]));
            $x = (imagesx($this->image) - $textWidth) / 2;
            $y = ((imagesy($this->image) + $textHeight) / 2) - ($lines - 2) * $textHeight;
            $lines = $lines - 1;
            //add the text
            imagettftext($this->image, $fontSize, $angle, $x, $y, $textColor, $font, $txt);
        }
        return true;
    }
    /* function to convert hex value to rgb array */
    protected function hexToRGB($colour) {
        if ($colour[0] == '#') {
            $colour = substr($colour, 1);
        }
        if (strlen($colour) == 6) {
            list( $r, $g, $b ) = array($colour[0] . $colour[1], $colour[2] . $colour[3], $colour[4] . $colour[5]);
        } elseif (strlen($colour) == 3) {
            list( $r, $g, $b ) = array($colour[0] . $colour[0], $colour[1] . $colour[1], $colour[2] . $colour[2]);
        } else {
            return false;
        }
        $r = hexdec($r);
        $g = hexdec($g);
        $b = hexdec($b);
        return array('r' => $r, 'g' => $g, 'b' => $b);
    }
    /**
     * Display image
     */
    function showImage() {
        header('Content-Type: image/png');
        return imagepng($this->image);
    }
    /**
     * Save image as png format
     * @param string file name to save
     * @param string location to save image file
     */
    function saveAsPng($fileName = 'text-image', $location = '') {
        $fileName = $fileName . ".png";
        $fileName = !empty($location) ? $location . $fileName : $fileName;
        return imagepng($this->image, $fileName);
    }
    /**
     * Save image as jpg format
     * @param string file name to save
     * @param string location to save image file
     */
    function saveAsJpg($fileName = 'text-image', $location = '') {
        $fileName = $fileName . ".jpg";
        $fileName = !empty($location) ? $location . $fileName : $fileName;
        return imagejpeg($this->image, $fileName);
    }
}

Now, create your project file where you want to create the image of your text dynamically, and just include class and create an object like this:
//include phpTextToImage class
require_once 'phpTextToImage.php';
//create img object
$img = new phpTextToImage;
After that, simply use this $img object to create your image with createImage function:
$text = 'Welcome to Legend Blogs.\nConvert Text To Image In PHP.';
$img->createImage($text);
If you want to save the image in your physical location you just need to call a saveAsPng() or saveAsJpg() function with your filename and location:
$fileName = "legendblogs";
$img->saveAsPng($fileName);
Your final code is:
<!DOCTYPE html>
<?php
//include phpTextToImage class
require_once 'phpTextToImage.php';
//create img object
$img = new phpTextToImage;
?>
<html lang="en">
    <head>
        <title>Convert Text To Image In PHP</title>
        <meta charset="utf-8">
        <meta name="viewport" content="width=device-width, initial-scale=1">
        <link rel="stylesheet" href="https://maxcdn.bootstrapcdn.com/bootstrap/3.3.7/css/bootstrap.min.css">
        <script src="https://ajax.googleapis.com/ajax/libs/jquery/3.2.1/jquery.min.js"></script>
        <script src="//maxcdn.bootstrapcdn.com/bootstrap/3.2.0/js/bootstrap.min.js"></script>
        <link rel="stylesheet" href="https://use.fontawesome.com/releases/v5.3.1/css/all.css" crossorigin="anonymous">
    </head>
    <body>
        <div class="container">
            <h2 class="text-danger">Convert Text To Image In PHP</h2>
            <h4>Refresh Your Page To Change Color</h4>
            <?php
            //create image from text
            $text = 'Welcome to Legend Blogs.\nConvert Text To Image In PHP.';
            $img->createImage($text);
            //display image
            
            $fileName = "legendblogs";
            $img->saveAsPng($fileName);
            
            ?>
            <img src="<?php echo $fileName; ?>.png" />
        </div>
    </body>
</html>

The output of the given text: